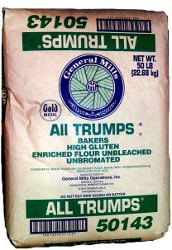 Kaptainsteve Pizza/Bread Dough 
Secret Recipe.
Dough Ingredients;
Water - 2 cups warm
Yeast - 1 teaspoon
Salt - 2 heaping teaspoons
Flour - All Trumps UNbleached malted flour as needed.
If All Trumps is not available, use bread flour. plus the following optional ingredients;
Diastatic Malt Powder - 1 heaping teaspoons (for rise/flavor, color and texture).
  (substitute 2 teaspoons sugar, for color).
Non Diastatic Malt Powder - 1 heaping teaspoons (for flavor and color, can omit).
Instructions;
Add 4 cups of flour, yeast and salt and mix.
Add 2 cups of warm water.
Mix in mixer.
Add more flour a cup or half cup at a time and mix until cleans bowl.
A. Cover and let rise in mix bowl/container 45 minutes - 1 hour at room temperature.
Take out, portion and shape and let rest covered for 1.5 - 2 hours before baking.
B. Portion into dough balls or baguttes  and let rest covered for 2 or 4 hours before baking.
Bread bake at 425 for 25 minutes.
Pizza bake at highest available oven temp until done.
Ingredients for pizza;
Canned Tomatoes, must be a good brand.  If they don't taste good right out of the can, then they are not good.
Recommendend
SM Brand
 or Stew Leonard's local canned brand.
Cheeze;  Mozzerella.  Must be a good!  The "slicing Mozzarella" from the delis is usually good.
Extra Virgin Olive Oil.  
Get high protein flour and malts 
HERE at King Aurthor... FREE Shipping for oders over 50bux!
Last edited by Admin on Sun Dec 10, 2017 11:54 am; edited 9 times in total
Last edited by Admin on Sun Oct 15, 2017 10:33 am; edited 2 times in total


Similar topics
---
Permissions in this forum:
You
cannot
reply to topics in this forum