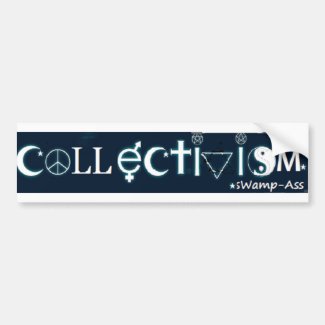 Coexist Collectivism Bumper Sticker
by
SwampAss
Check out other Collectivism Bumper Stickers at
zazzle.com
I Trust the Government....
Where was the government when BPA was being put into baby bottles and Teflon on all our frying pans (both linked to cancer)? (oh, the gov't still is putting BPA in the kids lunches! (http://www.stanforddaily.com/…/school-lunches-may-contain-…/) Where was the government when Monsanto's GMO food causes cancer in rats and Glyphosate is getting into our drinking water? (https://www.rt.com/news/monsanto-rats-tumor-france-531/) Where was the government when they were putting SV40, a cancer causing nightmare from African Green Monkeys in Polio vaccines (http://www.sv40foundation.org/) and don't worry about the mercury in today's vaccines, they say mercury is ok in vaccines, but will kill you every where else? How's that free healthcare working for Indians on reservations and veterans at the VA?
Sure you can trust the government to protect us from cancer, disease and from criminals... so give up your guns and get vaccinated and let ObamaCare take care of you.
Please, enough with the might makes right argument of consensus and we are the majority bullsnot. If it's wrong when one person does it, and it's wrong when two people do it, and wrong when 5, or 10, or 50, or 100 people do it, then how and why does it become right when a majority of the people in a given area decide to do it?
Can't think of a decent answer can you?
The only answer is to LEAVE INDIVIDUALS ALONE IF THEY AIN'T HARMING OR THREATENING YOU, PERIOD. You can keep government in your life, that's your choice, but leave the everyone who wants to be alone, ALONE! You have no right to force them to take vaccines, pay your taxes, support your healthcare or turn in his guns. It is that simple.http://www.washingtonpost.com/…/…/01/25/AR2006012502041.html Written by Kaptainsteve sWamp-Ass.
"Not an infant til it is born."
Let's examine this.
Not an infant to it's born.
An unborn baby is also NOT a toddler until it can walk, nor is it a teenager until it's 13, nor is it a senior citizen until it is 65. What does this mean? What's the significance? Does it mean that babies born premature (like me) are not infants until the 9th month and therefor have their right to live subordinated? Or does it mean they are not born until the 9th month even if they are? What is the significance of a statement like this?
The significance is that euphemisms and slogans try to couch nasty little truths so that the nastiness can no longer be recognized. "A women's right to her body" is a slogan that by omission discounts another person's right to their body, as "they" are not women. Others (the non women) don't exist therefore they have no say. But this is not true. Others do exist. Be they men, other women or the littlest, weakest or most innocent among us who are dependent on others for our very lives, be they born or unborn. Just because someone is dependent on others for their existence does not make them not a person or render them dead or non existent. Many people are sick in hospitals, the elderly, people with MD, MS or Down's and many of these are absolutely dependent and can not live on their own. They may not have the same awareness or even intelligence of you or I, but we are ALL different in these regards aren't we? And, they are all human, alive and precious, just like you... All human life is.
To say "it's not an infant till it is born" or the similar oft repeated "A woman has a right to control her body" is to deny existence and preciousness of human life be it dependent, independent, young, old, helpless, defenseless, born or not born. Elizabeth Warren is sort of right, just in reverse, those slogans are products of a gone and misguided time, the sick '60's, a time of perversion, drugs, excess and serious irresponsibility (let's face it). These slogans are convenient, slick, sick, evil and twisted, yet were highly effective propaganda that conned millions for decades as it excused and absolved them of personal and moral responsibility. These slogans were convenient. These slogans are wrong and worse, are pure evil. Enough with the cognitive dissonance already....
Written & Copyright by Kaptainsteve sWamp-Ass.